Faces of Downtown Hutch
Downtown Hutchinson is full of passionate, sincere, hardworking business owners. Read the stories below to get to know the friendly faces of Downtown a little better as we tell the stories of Downtown Hutch! Follow us on Facebook as new stories are released each week!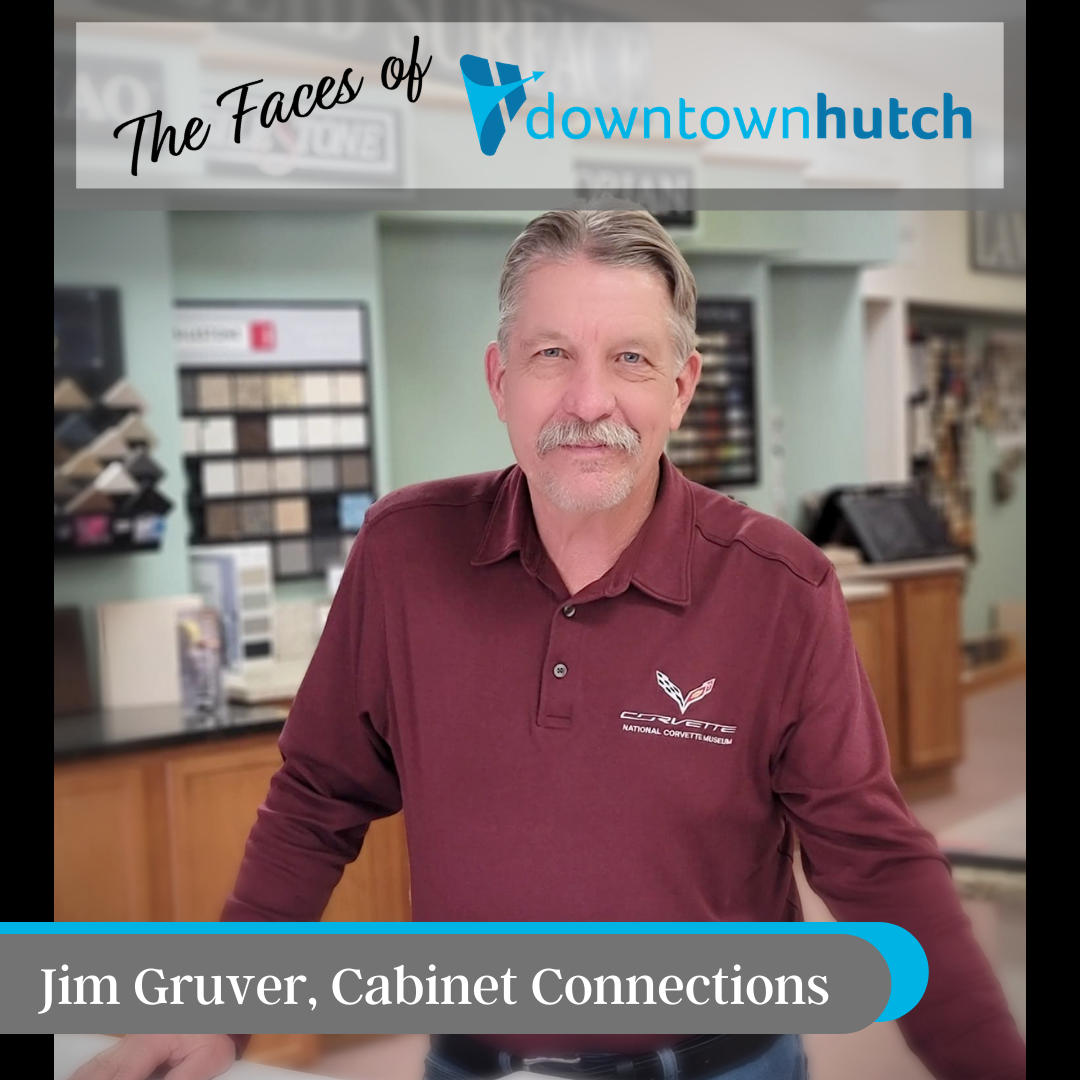 Cabinet Connections
Jim Gruver, Owner of Cabinet Connections, located at 105 N Main has been a business in Downtown for over 20 years! Jim first purchased the business when it was located near 13th and Main. He later relocated the store to the former Brown's Shoe Fit building. Jim saw potential in Downtown with the proposed improvements and street widening and beautification plans and felt it was the right place to operate his business. Cabinet Connections specializes in custom cabinetry as well as kitchen and bath remodels. You can find more information about Cabinet Connections by visiting their website www.cabinetconnections.com or follow them on Facebook at Cabinet Connections. Jim Gruver is well known to many in the community for his love of cars and works as President of the Downtown Hutch Rod Run and he is also an active member of the Wiley District.
---
Redemption Ink Tattoo
The business opened just a few years ago at 25th and Main St. Redemption Ink recently relocated to 323 N. Main just a little over 3 months ago in order to get more visibility for his business and to be a part of Downtown. Luis Gutierrez says his relocation has been wonderful for his business. The business operates on the mission of "changing lives, one tattoo at a time". They offer piercings, Botox services and specialize in tattoo cover-ups.
Luis and his wife Melissa are not only passionate about their business, but they also rescue animals and you will oftentimes see them share their love for rescue on their Facebook page. The real story behind Redemption Ink Tattoo and the American dream of owning a small business started years ago when Luis was only 16. Luis, at 16, went to prison for a very serious crime and spent 25 years behind bars in the Hutchinson Correctional Facility. He told us he was an open book, and his book reads like an unbelievable tale of hardship, despair, a life of crime, and ultimately a second chance in life to change everything. Luis is no longer serving a life sentence. He is living his second chance as a member of our Hutchinson society. He is now one who gives back to our community daily, shares his story to help others, mentors, and believes in the American dream.
There are many stories to be told in Downtown Hutch, and this one is worth knowing. Luis's story is inspirational and he has a deep love for his community and we are so happy to have him as a part of our Downtown.
To hear more about Luis's story watch here: https://vimeo.com/356503513.
---

Bride to Be
Hayden Law and Theelea Stewart are the owners of Bride 2 Be, located at 23 N. Main Street. The bridal shop has occupied a few other locations before expanding and finding its new home at 23 N Main! Hayden's favorite part of being Downtown on Main Street is seeing all the young girls stop and admire the dresses in the window. One day they might be shopping for the dress of their dreams at Bride 2 Be.
This newly renovated store offers a great selection of off-the-rack dresses for the last-minute bride, Premium Bridal Brand, and catalog dresses that can be ordered. In addition to the beautiful wedding and prom gowns they carry, you can also find bridal accessories such as veils and bridal jewelry.
This mother/daughter team firmly believes that "every dress finds it's bride" and focuses on offering our community affordable options for a bride on a budget. Giving back to their community is very important to these small business owners and they really want the community to know they are here to help you find your dream dress. Find out more about Bride 2 Be by following them on Facebook!
---
Bookends
Wes and Gwen Bartlett, owners of Bookends, are celebrating 9 years in Downtown Hutchinson this year. They opened on a Third Thursday to a large crowd and a great night of sales. They have been growing their store and book collections ever since.
Ironically, Wes and Gwen saw the building listed for sale while on vacation in Europe. Their dream was to own a bookstore in a restored home, having each room with a book theme. They had not considered Downtown for their store location, but once they saw the second floor at 123 N Main and its potential for residential apartments they fell in love. When they purchased the building there was no plumbing, heat, or power to the upper levels. Over the years they have lovingly restored the 1880's building, once called the European Hotel. Currently, the top floors are rented out as apartments, appropriately named the European Apartments.
High school sweethearts, Wes and Gwen were destined to be Bookstore owners in their retirement. Gwen grew up in Hutchinson working in various roles always centered around books, from Book mobiles to a school librarian for many years. Wes has a Masters in history and has always had an interest in Antique books. Over the years he has gone from maintaining the apartments to spending all his time handling the vintage books and working in the store with Gwen.
The bookstore, on the exterior, has a purposeful Tudor style reminiscent of trends of European bookstores.
No bookstore is complete without its live-in cat. Mortimer reigned over the location for many years but has recently retired. The newest fur-ball to live in the bookstore is Tabitha, a rescue. Tabitha has quite the personality and will often get into all sorts of mischief at night while the store is closed. She is always happy to greet customers and will sometimes crawl right up on your shoulder. Wes and Gwen love being shop owners in Downtown Hutchinson and the relationships they have with their loyal customers.
---
Reffner's
Located at 119 N Main, this team spirit apparel store not only carries merchandise to support your favorite professional and high school sporting teams; they also offer custom embroidery services as well as screen-printing options for groups and events. The Reffner family has a long history in retail apparel and a deep history and connection to Downtown Hutchinson. In the late 60's Reffner's operated a sporting goods store at 3rd and Main in Downtown. Later they relocated to and owned the Whiteside building for over 20 years! In the 90's all of the Reffner's locations in Hutch, Wichita and Topeka closed, and a new store was opened at 14 North Main in Downtown called Classic Embroidery by Jan.
Sporting goods and apparel have always been the main thread to this family of business owners and they have had a long-standing presence Downtown. In May 2019 Reffner's reopened in the former Sport Shack location at 119 N Main. The store was remodeled and the business no longer carries a full line of sporting goods but rather focuses on team spirit apparel, tux rentals, and custom embroidery and screen-printing services.
Brian and Kathy grew up in Hutchinson and ironically met for the first time at a Super Bowl party. While Kathy's family has a deep history in owning newspapers, she easily fell into the sporting goods business and is now a well-known face on Main street. Kevin Reffner, Brian's brother, is also part-owner and can be found at the store helping in the custom embroidery and screen-printing showroom.
When asked about why they want to own a business Downtown, Kevin spoke of his nostalgic memories of growing up here while his family-owned businesses Downtown and having a deep love and desire to see Downtown succeed. Kathy said that she loves feeling like the Downtown business owners are one big family that supports and helps each other be successful.
---
Long Ago Antique Mall
Paul and Tess Phillips recently opened the Long Ago Antique Mall in the former Long's location at 110 N Main. Tess is originally from Augusta, Kansas but has lived in the area since she was two. Her husband Paul moved to this area from Texas with his family around the age of ten. This dynamic duo also owns Salt City Pawn & Jewelry at 916 E 4th street, and they also are involved in real estate, flip houses and in the past few years have started to collect and restore antique cars!
With the outsourcing of her job Tess decided it was time for a change of pace. After a year of thinking it over, she decided to open her own antique mall Downtown to be close to the variety of other antique stores already operating here. She chose the old Long's location because of its open space and storefront windows. While having only been open since January, the store has expanded 4 times into new areas and is filled to capacity with every booth occupied. Stop in soon to welcome them to Downtown Hutch!
---
Workney's Overstocks
Daniel Wornkey is celebrating one year at his Wornkey's Overstocks location at 23 East 4th Ave. This long-time employee of the Sherriff's Department ventured into his own business offering discounted Overstock items last year in March, just as the pandemic was causing shutdowns. With the encouragement from his family (pictured here Dad, Mom and Sister-in-Law) he stuck it out and is thriving in his location Downtown.
Originally located on 30th Street, Daniel knew having his business relocate to Downtown would be great visibility and convenience for his customers. His offerings vary from home décor items to kids' toys and cleaning supplies and everything in-between. New merchandise is added weekly and every 1-2 months they go through an entire inventory change as they purchase new trucks of merchandise. How are they able to offer 35%-90% off retail? They purchase box damaged items which are brand new!
The store recently expanded in January 2021 to the neighboring storefront and there is parking available in the rear. They offer regular Facebook online auctions, spring and summer parking lot sales, and fill a bag sales where everything is just $1! Be sure to follow their Facebook page for updates on these great events and monthly giveaways.
---
Hickory Stik
Formerly the Fraese Drugs location, The Hickory Stik opened its doors on October 9th 2017 at 25 N Main Street. Aaron Bruce, owner and BBQ master offers a wide selection of meat items from their famous Stacker sandwiches, pulled pork, brisket, ribs, ham, turkey, and links to mouth-watering sides and loaded baked potatoes. The renovated space has a great local feel and a bar with an expanded beer selection.
The restaurant is a true family business for this Hutch/ Nickerson native and you will often find Aaron's kids working right alongside him serving up amazing BBQ dishes. Aaron really loves that operating a business in Downtown Hutch is like being a member of a big family. He made sure to mention how the whole town rallied around him during Covid-19 by purchasing gift cards through the Rally Reno program and it helped him survive the shutdown.
If you are looking for catering options for your next event, look no further than The Hickory Stik. They have great options for any occasion. You can find out more by visiting their website at www.hickorystik.com and by following them on Facebook and Instagram for daily special and menu updates!
---
Lit Studios
Feeling creative? If you are looking for a place to explore your creativity, then plan a trip to visit Kylee Smith, owner of Lit Studios Paint & Pottery at 416 N Main Street.
Kylee's concept was created back in November of 2016 when she hosted her first paint party at her former location on 5th Street. In May 2019 she expanded her business to include a second concept called The Clay Hut by Kylee where you could create glazed pottery projects. In October of 2019 the opportunity to relocate to Main Street Downtown became available and it made perfect sense to combine the two concepts. Kylee loves the foot traffic and visibility she gets in Downtown and having the support of the Downtown Community.
Not only is this local entrepreneur a busy small business owner, she is also a mom of three and has been homeschooling since her kids were in 4th grade. She grew up in the South Hutch and Nickerson area and spent her youth painting along-side her grandmother who owned a shop in Nickerson called "The Lady that Paints". When you visit the studio on Main St, you will often-times be greeted by her furry side-kick Vinny. Be sure to give him a quick pet.
There are lots of great things happening at Lit Studios these days. They offer walk-in studio hours for pottery painting, To-Go Kits, private parties and public classes for both pottery and canvas painting, glass fusing and clay-working. Check out her website at www.litstudiospaintandpottery.com and visit this great creative studio for yourself at 416 N Main. Follow her on social media for all the updates on classes and events!
---
Sleep Shoppe & Furniture Gallery
If there is one thing we can share about Kevin Rule it is that he is probably the most optimistic person you will ever meet. Kevin and his wife Susan relocated here from the Wichita area a little over three years ago when they purchased the Sleep Shoppe and Furniture Gallery, a business that has been a staple of Downtown for over 40 years.
The commute for Kevin is pretty easy each day, as he not only loves Downtown, he lives Downtown too! Kevin has over 30 years in the furniture and mattress business, and he has taken the Sleep Shoppe to another level with his commitment to outstanding customer service and quality merchandise.
The pandemic definitely did not slow down this business owner. He took that time to open another division of the Sleep Shoppe, called The Furniture and Mattress Clearance Center across the street which offers factory closeouts, one-of-a-kind furnishings, and mattress options.
The Sleep Shoppe offers furniture for your Living, Dining, Bedrooms and more! If you are in the market for a new mattress there are several brands to choose from and he even offers a 90-day comfort guarantee, and warranties ranging from 10 years to a Lifetime on the Forever Bed! Other perks include free delivery within 75 miles, free haul-away and free financing!
Catch Kevin weekly during his live radio remote with KWBW-1450am "Let's Be Social" series where he hosts local Downtown Business owners and non-profits and allows them to share about their businesses and events!
When we asked Kevin his favorite thing about Downtown he responded that he fell in love with our Downtown because it has a "Hallmark Movie" feel, and even more so during the holidays. Kevin is a self-proclaimed "leader of the fun parade" and his work atmosphere is filled with employees having fun and enjoying their jobs.
Follow them on social media and shop either location online at www.myhutchinsonfurniture.com and www.clearancehutch.com.
Gale Wall Photography
Looking to capture a timeless moment? Gale Wall Photography, located at 117 N Main Street has created a spot to capture your loved ones in front of the lens. Gale has operated her business Downtown since 2013, and moved to her current location when she purchased the building at 117 N. Main in 2015. Formerly a pet store and quilt store, Gale and her husband Barry gave the space an elegant refresh and transformed it into a photography studio. Services include child, family and pet portraits, as well as professional headshots and limited commercial work. Gale also creates limited edition sets with a whimsical feel a couple of times a year.
Originally from Georgia, Gale and her husband Barry moved to his hometown of Hutchinson to pursue a slower pace of life. Her husband has worked for US Salt since the 90's. Many corporate relocations through the years left them wanting to leave the big cities behind so they chose to live and work from Hutchinson.
We asked Gale about her passion for her fine arts portraits. She told us that her goal is to create heirloom portraits that are treasured and passed down over generations. We live in a very digital world and people rarely print photos like they used to and kids are growing up these days without printed photos from their childhood.
Gale and her husband fell in love with Downtown Hutch because of the great events hosted here over the years. They decided they wanted to invest in their Downtown and open the photography studio. Most recently, in 2020 they decided to purchase the Catalyst Lofts at First and Main. The Catalyst Lofts is a (3) loft residential building with (1) loft available as an extended stay unit.
Find out more about upcoming offerings by visiting her website at Galewall.com, or follow her creativity on social media on Facebook and Instagram Gale Wall Photography.