Bogey's Receives Small Business Award
Thursday, August 20, 2020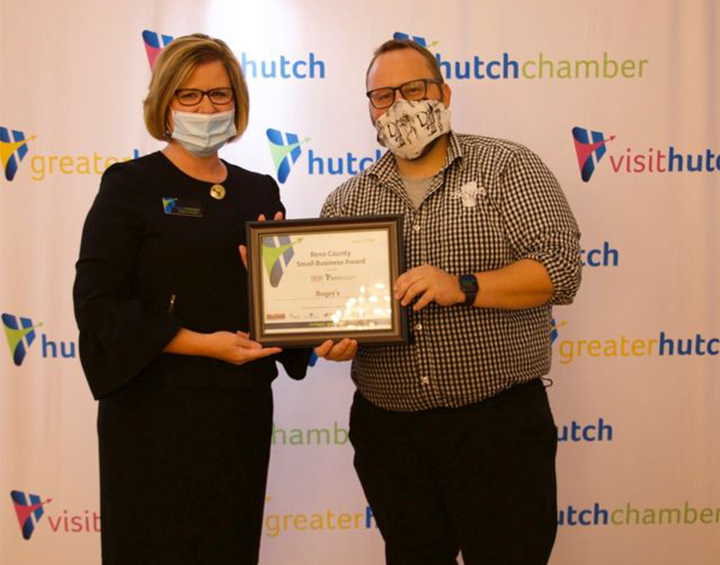 Craig Davis started Bogey's in 1987 after being the area manager for the corporate Long John Silvers in the Midwest. He had become familiar with a relatively new restaurant in Salina called Bogey's and decided to open his own restaurant. He was the first and only franchisee of the Salina Bogey's. In the early 90s, the two operations had a "falling out," and officially ended their relationship. While both stores share the same name, there is no actual connection between the two stores anymore.
When Bogey's opened in 1987, the building was about half the size it currently is. The dining room was around 500 square feet and the menu was much smaller, only featuring less than 30 different shake flavors. Over the years, as business increased, so did the menu and the building. It was only in the mid 90's when Bogey's started featuring "Over 101 Shakes", which they are now well known for.
Tyler, Craig's son, began working for his dad when he was sixteen, and bought the business from his father when he retired at the beginning of 2018. Tyler than expanded to a second location in South Hutchinson, and added a number of employees over these past two years. As a now 33-year-old business, their expansion has been slow and methodical, but has allowed them to refine and focus on exactly who we they are and what they do best. Currently, Tyler is looking to expand outside of Reno County, and hoping to open between 5-10 new locations in the next 10 years.
Bogey's is unique from other fast food restaurants in a number of ways. First and foremost, they value their people over operations. It has always been core to both Tyler and Craig that no matter how good their ice cream, or hamburgers are, they are only as good as the people they are able to employ. Second, they have tried to create an atmosphere and menu to have the widest appeal possible. While many consultants and industry experts preach that limited menus and a narrow focus is the only way to succeed, they took a different approach and created a diverse menu that has something for almost everyone. Not only can customers get any shake flavor imaginable, their food menu is about as expansive as they can possibly make it.
Over the 30 years, there has been no shortage of operational challenges and they have changed over the years. Currently, before the pandemic, the main operational challenge they faced was staffing and retaining employees. Another major challenge they faced recently was the large influx of chain "fast casual" restaurants that opened in town a few years ago. The increased competition really changed the restaurant landscape here in Hutchinson. In response, Bogey's felt like they needed to adapt and improve and started a major renovation the same year that many of the chain establishments opened. They also made a renewed effort to double down on employee retention. They invested in customer loyalty programs, online ordering, and enacted a number of promotions in order to retain their customers. They were lucky to see their sales increase the following year after making all of those changes.
During the COVID-19 crisis, challenges changed quickly and drastically. They had to shut down their Hutchinson store for three weeks after a staff member's family was exposed to the virus. This time was particularly challenging, but through government programs, Rally Reno County, their incredible long time customers, and the South Hutchinson location, they were able to continue paying staff throughout the closure, and managed to hang on to all of their long term employees.
Employee retention has been a major focus of theirs for as long as they have been open. In the fast food industry, turnover rates often exceed 100% year over year. At Bogey's, they manage to keep their turnover rate hovering around 30%, which is considered impressive for the type of work they do, and the number of teenagers they employ. Many of the staff they do lose is often because they go off to school, or graduate and begin their own careers in a different field. Rarely do they lose staff to their competitors. Tyler accredits this to a number of reasons, one being that they pay their long-time employees considerably higher and offer better benefits across the board. In addition, they are careful when putting together the weekly schedule to only schedule staff according to their wants and availability. Paying people well and ensuring they have plenty of time for their families and personal life is essential to retaining people long term.
Through the years Bogey's has stayed active in the community in a number of ways. In the past they have had dedicated service days and have helped staff the local soup kitchen a number of times. They have also donated product to the local Food Bank and have held several fundraisers for different causes over the years.
Thank you, Tyler, for all you do for our community!