BowerComm Receives Small Business Award
Tuesday, October 05, 2021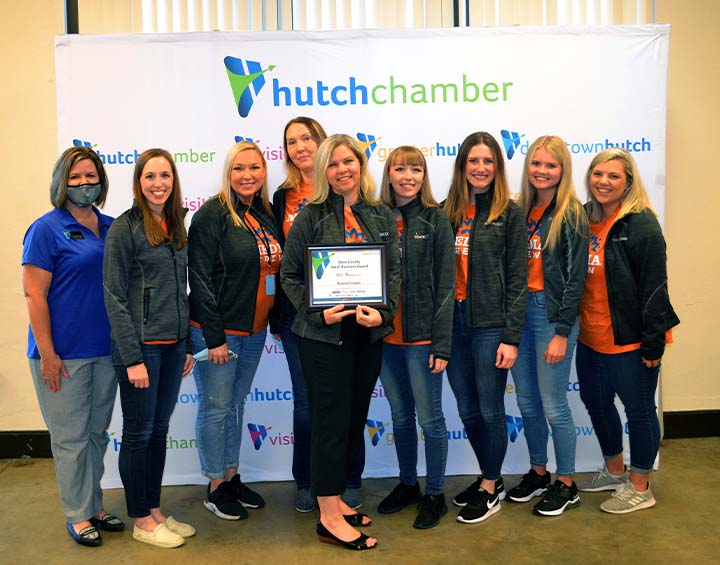 BowerComm started in 2010 when Lori returned to Kansas after seven years working in Chicago ad agencies. It started as a freelance marketing communications business, where she had long-term contracts with two Chicago agencies to work with several of their clients. The following year, BowerComm began a new partnership with Hutchinson Community Foundation. In the beginning, BowerComm worked with a designer and other freelance partners. In her first five years, her work gradually shifted to about half local clients and half Chicago-related clients.
In 2016, Lori hired her first part-time contract employee, Bailey Stiggins. She needed help managing the work, especially since she also had two small children at home. With her current work in Chicago and a growing local client base, she added a nearly full-time contractor and several freelancers and another employee in 2017.
By 2018, she rented office space at Hutchinson Community Foundation and they quickly outgrew their 10x10 space. Later that year, they rented a larger-than-needed space on 30th Avenue. They have now filled all the offices with new faces and during this time they were awarded the Kansas State Fair account, which was an enormous leap in volume.
2019 was a turning point in their growth. BowerComm hired an operations manager and another account director. Now with five employees, they have added health insurance and 401k benefits. They also began working with IdeaTek. Little did we know how COVID would drive broadband investment and the need for communications in 2020!
Unlike many companies, BowerComm grew in 2020 and had many opportunities during the COVID shutdown. They hit $1 million in annual revenue for the first time and added two employees.
BowerComm's primary role is to help organizations and businesses transform from "random acts of marketing" to having a unified message and focused plan, so they can achieve more than they thought possible. Branding, marketing, and communications are often vague terms that people equate with logos and advertising. To them, this domain is about one thing: persuasion.
Employee retention starts with hiring, and it's most important to us to hire people who the right fit for our culture: enthusiastic, smart problem-solvers. They are also advocates of people living in the place they want to be—so while they have a few higher-level specialists that live and work fully remote in other cities, they hire people who WANT to be a part of our local community. All employees have the opportunity for bonuses on new business they bring in personally, which continues annually as long as they remain a client.
BowerComm enjoys being at the center of community life, and has been intimately involved in shaping the futures of many local organizations through helping them strategize and communicate to raise their game. These include Hutchinson Community Foundation, StartUp Hutch, Kansas State Fair, BrightHouse, Hutchinson Public Library, United Methodist Health Ministry Fund, Kansas Area United Methodist Foundation, Reno County Health Department, Rise Up Reno, TECH—and most recently PILR, Boys and Girls Club, and the Early Education Center.
BowerComm may be hidden from the spotlight, but Lori sees BowerComm as a key economic catalyst in Reno County. They provide hard-to-find expertise that allows dozens of clients reach new levels of revenue, growth, and employee recruitment.
When it comes to local economic development, they have three goals: (1) provide meaningful work for talented people, (2) improve our community by helping businesses and organizations achieve more than they ever imagined, and (3) draw money from outside the region into our community. BowerComm is proud to have clients across the country—and around the world—that allow them to bring jobs and money to our area.
Thank you, Lori and your staff at BowerComm Marketing Communications, for all you do for our community.