The Wool Market & DIY School Receives Small Business Award
Wednesday, May 24, 2023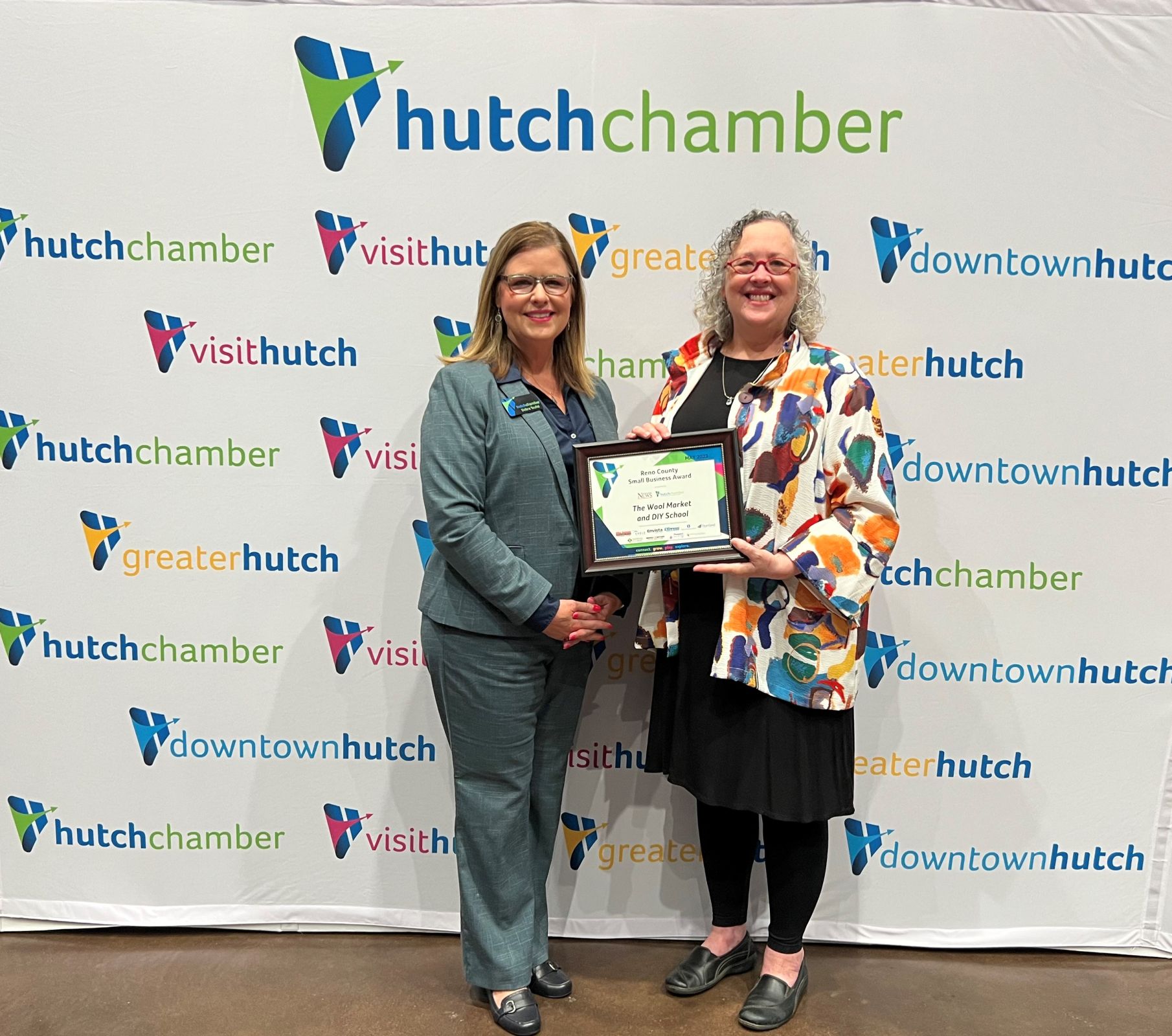 Andrea Springer formed the LLC for the Wool Market & DIY School with her husband Steve Snook in 2016 based on the fact she had been knitting for over 50 years, and she had worked as an instructor at two previous yarn stores to pay for her yarn habit. She and her husband Steve started organizing retreats over a Friday through Sunday schedule and taking knitters to Airbnbs off the beaten path in Kansas. Full Circle was the theme of their retreats, and they encouraged attendees to bring a project they had yet to finish or something they wanted to start. Steve planned and prepared the meals, did the dishes, and kept everyone's glasses full; Andrea was the expert who offered assistance, advice, and instruction to help attendees' projects come full circle by retreat's end. The retreats were a way to get away and to get some exposure for the business before they considered opening a storefront.
Fast forward to 2017, while both Steve and Andrea were still working full time outside of the business, the idea of a storefront came up when the second yarn store in town closed. Knitters were meeting at libraries and other random locations, and Andrea knew one of the benefits of the yarn store/knitting business is being able to connect with people you wouldn't otherwise meet in the community. To them, it wasn't just about selling and instructing, but it was also about enabling conversations! Steve and Andrea also had a strong belief in Hutchinson, and they had the income to purchase a building and invest in Downtown Main Street. They felt strongly there was capacity to sell product and be a regional draw. They opened their storefront at 420 N Main in 2018. Their customers come from all over the state and surrounding areas.
Being closed during the pandemic, they quickly learned to adapt and began selling products, including embroidery kits by phone and by text, because people were at home and needed something to do. They also started their Friday night FB Live sales during this time, offering kits and accessories for knitters and crocheters. They've sold all across the country through these sales, and they even have a fan club in Minnesota.
They are the only business (no other independent yarn store like them) this far west in the state. There are several places in Hutchinson where you can buy yarn, but WMDIY sells more of a garment-quality yarn, and those other places aren't going to be able to help if someone is stuck with a project. They have a standing offer that if you buy your supplies with them, they will provide an hour of instruction to you for free.
Steve and Andrea have previously served on the boards of Stage 9 and the KS Sampler Foundation. As both Steve and Andrea are cancer survivors, they are very supportive of Cancer Council of Reno County and keep a donation basket out to provide chemo caps for cancer patients. They also serve at Grace Episcopal Church and the Wool Market is a drop point for Salthawk Community Support, an organization that works to collect items for students in need. They are also active with the Downtown Coalition.
Their goal is to make every person feel welcome when they walk through the door. Some people don't knit or crochet, but they just want to be surrounded by color. They won't judge anyone on skill level. As both love Hutchinson, they want to share the community with their out-of-town guests, and when they share the community, everyone wins!